Art house (Pera Pedi)
"Arthouse" is to open soon at Pera Pedi vilage in Cyprus for the summer.
The output and decentralization of art in alternative spaces is a phenomenon that is recorded with increasing frequency in recent years in Europe.
"Arthouse" is located next to "Krios" (cold) river in the main road that connects the village with others such as Omodos and Platres. The exhibition space will be open to visitors every weekend from June to September.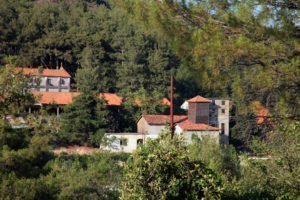 Pera Pedi village is located in the south of the Troodos mountain range, about 35 kilometers northwest of Limassol and at an altitude of 770 meters. It is built upon wide, leveled ground, which is surrounded by mountains whose altitude ranges between 850 and 1000 meters. The Krios (cold) river, a tributary of the river Kouris, crosses the village.
It is one of the first villages that cultivated apples and became known all over Cyprus as an exclusively apple-producing village.


The name of the village is due to the fact that it is built on leveled ground (pedion) is the second component of "oropedion", which means plateau) although it is located on a mountainous area. Therefore it is a settlement that is located "pera Pedion" ("pera" or "antipera", meaning across). The name must be chronically placed in the Byzantine years. It is believed that the settlement existed even before the Frank domination era. Estienne de Lusignan (16th century) knew of its existence and mentions it as the place where Saint Mavri and her husband Timotheos came from.
Pera Pedi is one of the most beautiful villages of Cyprus, literally "drowned" in green. It preserves to a great degree the elements of traditional highland architecture. In the main square ("Stathmos", Station) every visitor can enjoy the freshness of the village. The ideal environment is always accompanied by the sweet singing of the nightingales that never leave Pera Pedi.